Oil spills, increasingly salinated water threaten birds' winter habitat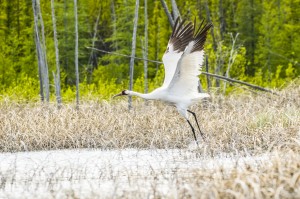 While the whooping cranes were nesting in their summer homes at Wood Buffalo National Park over the summer, their advocates were working hard to ensure an even larger winter habitat continues to meet their needs.
In a major purchase, the state-run Texas Parks and Wildlife Department took hold of the 17,351-acre Powderhorn Ranch, which they hope to turn into a wildlife park with dedicated refuge space.
Wade Harrell, a conservationist with US Fish and Wildlife Services, said the new property is located directly across from the whooping crane's winter home at the National Aransas Wildlife Refuge, which stretches across 115,000 acres of wetlands and is protected by nearby Matagorda Island.
"With the growing population, we've seen them use a broader array of habitat types than just the coastal marsh," Harrell said of the birds, whose population increased to 304 as of this spring. "The last few years we've seen a few whooping cranes actually winter on a freshwater reservoir about two miles inland from the coast with different food and vegetation."
Harrell said the acquisition of Powderhorn Ranch means the state is providing a wider range of safe habitat for the species by establishing one of the few zones along the coast that isn't privately owned.
"The reason they're moving off refuge is that it's basically full; it's housing as many whooping cranes as is probably possible," Harrell said. "Our challenge is making sure we try to stay one step ahead of them and try to conserve quality habitat that they can go out and find and use."
Over the summer, the Texas Parks and Wildlife Commission accepted the ranch as a donation from a triad of conservation organizations, including the department's fundraising nonprofit group Texas Parks and Wildlife Foundation (TPWF), as well as the Nature Conservancy and the Conservation Fund.
A majority of funding for the $50-million deal came from the Gulf Environmental Benefit Fund, which will cover about $34.5 million to be doled out to the TPWF over the next three years. The funds came from a $2.5-billion pocket overseen by the National Fish and Wildlife Foundation, created with money from BP and Transocean as a part of plea agreements after the Deepwater Horizon rig exploded in 2010, resulting in a devastating oil spill.
The remaining amount will be raised through private donations and grants. So far, about $43 million of the total cost has been acquired.