Northern Journal
Environment — April 7, 2014 at 8:31 PM From International
Texas oil spill a concern for whooping cranes                                          
by Maria Church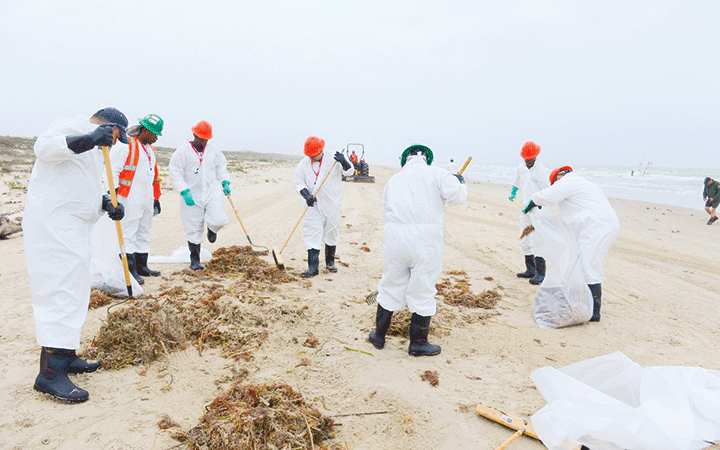 Crew members work to remove oil on the beaches of the National Seashore Park on Apr. 1 following the Galveston Bay oil spill in Texas. Whooping crane advocates expressed concern after hearing reports of heavy machinery being used in the cleanup effort.
An advocacy group for the protection of endangered whooping cranes says it's "very concerned" about the impacts of a tanker spill in Texas that resulted in 168,000 gallons of oil being dumped into Galveston Bay, less than 300 km from where the birds overwinter.
Oil globs as large as basketballs began washing up on Matagorda Island last week, an area of the Aransas National Wildlife Refuge where whooping cranes spend the winter season before heading to their northern breeding grounds in Wood Buffalo National Park.
A sizeable operation has been launched by the US Coast Guard to clean up the spill, which happened on Mar. 22 when an oil tanker collided with another ship in the bay, but some are expressing concern that the effects of the cleanup could be devastating to the fragile crane population in the middle of migration.
Chester McConnell, one of the advocates behind Friends of the Wild Whoopers (FOTWW), told The Journal his concern stems from what he sees as a lack of concern for the cranes and other endangered species by the cleanup crew.
"The intensive cleanup efforts were doing the job for other needs associated with the beaches and were not too concerned about wildlife," he said.
FOTWW, along with other conservation groups, made significant noise after hearing reports of heavy equipment and machinery being used early in the cleanup process.
Last week, their outcry made some headway when it was confirmed that cleanup crews will switch to hand tools and equipment that has a "light touch" in areas sensitive to wildlife.
"As of today, our concerns have subsided a bit," McConnell said in an email Friday.
Lessons to be learned
The whooping cranes are currently in the middle of a staggered migration period that will eventually see the entire population leave Texas and make its way through the US to their summer home in Wood Buffalo.
According to observers, around 25 per cent of the population has already begun migration.
While immediate concern about the safety of whooping cranes has eased, McConnell said it's important for leaders and politicians to reflect on how they will respond to future emergency environmental threats.
"Those of us interested in whooping cranes have been concerned for many years that something like this oil spill would occur. There is much boat traffic that goes immediately by the Aransas National Wildlife Refuge. Any of these vessels loaded with oil, chemicals, etc. are a serious threat," he said.
"Plans need to be developed specifically for the Aransas Refuge vicinity to respond to any future emergencies. Equipment and supplies need to be on call so immediate attention can be directed to any future catastrophe near Aransas Refuge."
Reports from US media last week confirmed that hundreds of birds were killed by oil from the Galveston spill, a close call for the endangered whooping crane population of less than 300.
"The whooping cranes that use Aransas are the only wild flock remaining on the planet. They are the crown jewels and all other efforts to restore whooping cranes in other locations are dependent on these birds," McConnell said.
Tags wildlife
Share: