The Northern Journal is an independent newspaper covering news and events in Northern Alberta and across the Northwest Territories.
Environment — January 27, 2014 at 8:15 PMFrom Northern Alberta
by Maria Church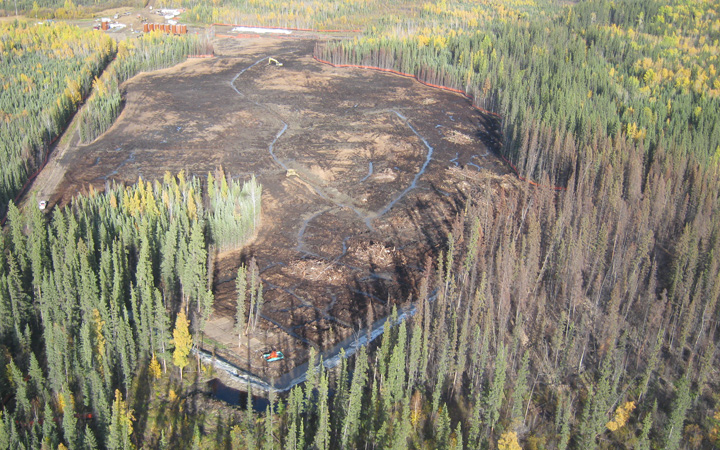 PhotoApache Corp.
A 42-hectare area near Zama City in northern Alberta was destroyed when 15.4 million litres of wastewater spilled following a pipeline breach on May 5, 2013.
Apache Corp. is responding to its fourth pipeline spill in the last year on its property in northern Alberta after a leak that released 1.6 million litres of toxic wastewater onto the nearby ground was discovered Thursday.
The Texas-based oil and gas producer informed the Alberta Energy Regulator (AER) of the leak Thursday morning, shortly after an Apache employee discovered produced wastewater issuing from a water injection pipeline at Belloy Field, 40 km northwest of Whitecourt, Alta.
According to reports, the leak spread an estimated 200 metres from the pipeline, spilling down an embankment and entering a small, unnamed creek.
Wastewater produced during oil and gas extraction contains heavy metals, salt and other minerals, as well as trace amounts of hydrocarbons.
The company has stated there is no danger to the public and no known impacts to wildlife at this time.
After notifying AER, Apache dispatched a team to the spill area to begin remediation efforts and monitor impacts on the environment.
Thus far, air quality monitoring has discovered no evidence of hydrogen sulfide, a highly poisonous chemical used in oil and gas production, at the spill or cleanup site.
The company has launched an investigation into the cause of the leak.
Last year, Apache was faced with three pipeline leaks on its properties in northern Alberta, including two near Zama City, one of which released the largest volume for a pipeline spill in recent North American history after 15.4 million litres of wastewater contaminated a 42-hectare wetland area in June.
The company announced the results of its investigation into the June spill in October, which it said was caused by stress corrosion cracking in the water injection pipeline.
According to the company, a pinhole in the plastic liner of the pipe allowed water to leak through and mix with the sulfur gas causing corrosion and cracking of the exterior steel bands.
A week after those results were released, another spill was found near Zama, estimated to have released 1.8 million litres of wastewater. A second, previous leak released a smaller, unnamed amount earlier that summer.
Apache stated it would be installing real-time monitoring on nine of its water injection wells in the Zama operations area through SCADA (supervisory control and data acquisition).
As of December, the company had treated and released 110,000 cubic metres of wastewater from the Zama spill back into the environment.
The company is continuing desalination of the affected area, as well as water and wildlife monitoring and soil sampling. According to their website, vegetation renewal is pending.
Environment — January 20, 2014 at 8:30 PMFrom Northern Alberta
First Nation councillor says they need more access to information
by Maria Church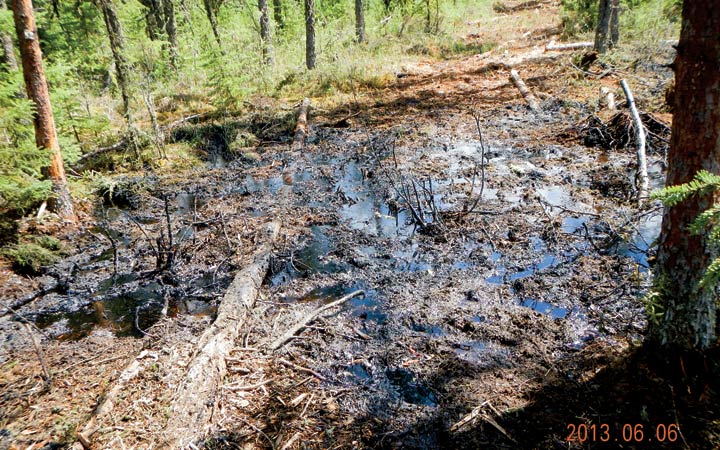 Photo: Emma Pullman
Leaked bitumen pools in the wetlands near CNRL's Primrose oilsands site last summer, which is located on the traditional territory of the Cold Lake First Nation.
Cold Lake First Nation leaders are crying foul after they said they learned about a fourth leak discovered on Canadian Natural Resource Ltd.'s (CNRL) Primrose Pad 30 – located on their traditional territory – in early January through media reports instead of the company or Alberta Environment.
"The Dene Nation was shocked to learn that CNRL had yet another spill within their territory," the nation stated in a press release late last week.
CNRL rep Zoe Addington told The Journal in an email that the incident, which occurred Jan. 3, was caused by a wellbore failure below the surface.
The failure did not cause a spill or leak to the surface, Addington stated, and there has been "no impact to the environment nor potential danger to people."
The Alberta Energy Regulator (AER) is currently investigating the incident that caused 27,000 litres of bitumen to be released underground, according to company numbers.
AER spokesperson Darin Barter confirmed that the incident was subsurface with no impact to the environment. He said the leak, which included steam, crude bitumen and produced water, has been contained.
Cold Lake in the dark
Cold Lake councillor and former chief Walter Janvier told The Journal last Thursday that the nation didn't hear about the incident until a week after it happened through the media.
"This is another spill that has occurred and, similar to the last, the company has continuously not cooperated with the nation and not provided proper technical information so we can make a good assessment of what's going on," he said.
Cold Lake recently had a meeting with Alberta Environment and Sustainable Resource Development (ESRD) about remediation, cleanup and prevention of bitumen leaks, but Janvier said the government has been either reluctant or unable to push the oilsands company.
One in string of leaks for CNRL
Last summer, after CNRL's in situ operations near Cold Lake released millions of litres of bitumen into the surrounding forest and water bodies, ESRD issued a protection order that included forcing the company to drain a lake as part of the clean up.
"(ESRD) says they are dealing with it, but all it is is just cleaning up the surface. The main problem is coming from underneath," Janvier said.
Janvier said he would like to know what kind of pressure is being forced into the ground in the in situ drilling process and what kind of chemicals are being used, among other things.
"Our concern is the impacts on human health," he said. "Our traditional people still consume a lot of the various animals that we hunt and fish for. A lot of these animals end up having a lot of the contaminants from what they are eating and the water. We need the scientific data to find out if these animals are safe to eat."
Legal action considered
Janvier said that Cold Lake is standing in solidarity with the "Honour the Treaties" concert tour by Neil Young currently raising money for the Athabasca Chipewyan First Nation's legal fees against the government and oilsands companies.
Legal action against CNRL is not out of the picture for Cold Lake, he said.
"We are taking all measures that are within our means," Janvier said. "That includes utilizing our legal system, utilizing our lawyers, utilizing our consultants and also our elders and all the people we can call upon to work out a way we can cause some kind of positive change."